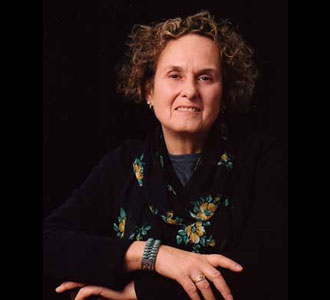 Nancy Azara is a sculptor and book artist who has shown her work in New York City throughout the U.S. and abroad. Her spiritually infused sculpture is carved, assembled, and painted wood with gold and silver leaf and encaustic.
She completed in 2004 a 6 1/2 foot x 28 foot total sculpture Hand Garden, Doctors Wall, a commission for the Robert Wood Johnson university Hospital in Hamilton NJ. Among her works Heart Wall, a 24-foot long expanse of 13 pieces, 6 feet high, and Passages, a carved wood accordion book with poems, 18 feet long by 1 foot high, a collaboration with poet Judith Barrington. One woman exhibitions have been at Donahue/ Sosinski Art in New York City and at the Froelick Gallery, Portland, Oregon, the SACI Gallery, Florence, Italy, A.I.R. Gallery in New York City, the Tweed Museum in Duluth, Minnesota, Rudolph E. Lee Gallery in Clemson, N.C., the Gwinnett Fine Arts Center in Duluth, Georgia and many group shows.
Azara has recently written a book, Spirit Taking Form: Making a Spiritual Practice of Making Art, published in December 2002 (Red Wheel/ Weisers) and an essay, "In Pursuit of the Divine" for The Kensington and Winchester Papers: Painting, Sculpture and the Spiritual Dimension, 2003 (Onerios Books). She was a founder of the New York Feminist Art Institute (NYFAI) in 1979, where she was on the board and taught a workshop called "Consciousness Raising, Visual Diaries, Art Making" for many years. She has been a visiting artist in both the United States, Europe, and India, most recently at the Bogliasco Foundation, Genoa, Italy and at Chikraneketan in South India (state of Kerala).
---
Artist's Available Works:
---
To contact Nancy Azara, use the form below: