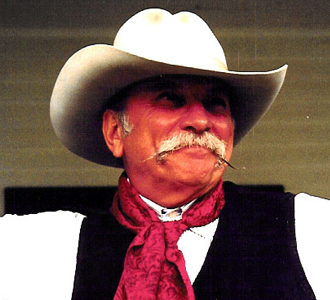 Continually inspired by his surroundings, the mountains, wildlife, and the cowboy way, Mike Flanagan was raised in Texas before moving to Wyoming in 1967.
Mike is close to the land in all his endeavors: riding horses, working cattle, fishing and in general enjoying the great out-of-doors.
Mike Flanagan has displayed work in premiere galleries in the West as well as at the Charles Russell Show and the National Wildlife Art Collectors Society. He was commissioned to sculpt a portrait of Wyoming Sheepman Herman Werner for the National Cowboy Hall of Fame.
Mike has completed 14 monumental sculptures, including all four North American Wild Sheep, a life-size buffalo, Quarter Horses and others.
Among Mike's collectors are the late John Wayne, former Vice President Dan Quayle, Shuttle Commander Joe Engle, Vice President Dick Cheney, Buck Taylor and Lynn Anderson.
---
Artist's Available Works:
---
To contact Mike Flanagan, use the form below: