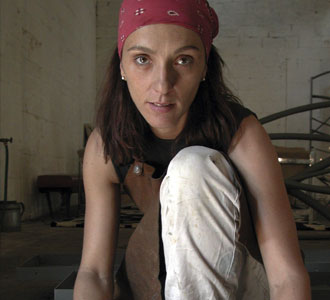 Carolina Sardi is an Argentinean sculptor established in Miami since 1995. She earned her Master in Sculpture at the National University of La Plata, in her country. She also studied Architecture and Urbanism at the same University and Sculpture with the artist Enio Iommi.
Artist Statement
My art it's my way to express my world vision. I try to convey the maximum of information in the most minimal but essential forms .The concept is as important as the image and the space as important as the shapes. What appears as simple at first glance, becomes upon closer registration much more intricate . The interaction with the spectator brings forth multiple personal interpretations.
Material source for my art comes from various places including everyday life and my own personal experiences . Each form is a symbol that can stand alone, signifying one idea. Together, they can grouped and arranged in an installation that will represent a new or more complex idea and will enhance the central theme. Although I work mainly with steel, my pieces have an organic sensibility that reflects my interest in the basic interactions of life.
My latest wall installations are created by a combination of oval or round painted steel pieces arranged over an invisible grit .The egg shapes are placed in an structured but organic composition that creates a visual effect of mathematical repetition in the space . Each element of the whole is different, they keep their individuality and they maintain their particular presence inside the totality . The embryonic forms can be seen as particles or entities of what it will be. The white stark wall become the background or the medium in which this atmospheric landscapes are created . The steel pieces are placed against the wall , but separated from its surface with a distance of one or two inches , creating a floating effect in the space that is enhance by lights and shadows .The color reinforces the concept of each composition , in which eggs , circles or particles are a symbol of infinity and origin and can become anything and everything when changing color , shape and placement in the space ; allowing new compositions , subjects and messages.
---
Artist's Available Works:
---
To contact Carolina Sardi, use the form below: