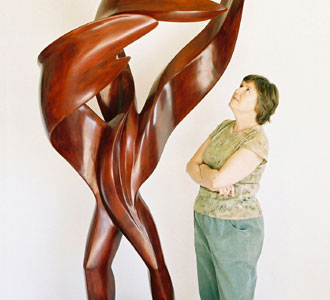 Candace Knapp - Contemporary Sculpture

I work in wood because it is a living material. Even after the tree has been cut down, dried and made into boards, it still has a personality. A tree that has been bent by the wind for years will spring back when the board is run through the table saw because the tension is locked inside. Each tree and each kind of wood has a unique personality and I take this into account when choosing wood for my sculptures. I laminate wood into a shape that resembles what I am going to carve. By layering the grain I can make long extensions into space that are still strong and supple. I use a mallet and gouge to do most of the carving work and various sanders to get a smooth finish. Sometimes I leave the carving marks on the surface.

My imagery comes from my life experience. I choose shapes and images that have an emotional charge for me. It could be musical instruments transformed by the music flowing through them, creatures or shapes that are an emotion personified or a shape embodying the psyche of a person. I bring the elements of the sculpture together in an organic way. The forms can emerge from one another, entwine, branch out, whirl in the air and suggest movement in many ways. The resulting composition often has a presence or personality that is beyond what I could have consciously planned. When I see what I have done I give it a name.
To contact this artist, please call 212-695-4074 or use the Contact form below.