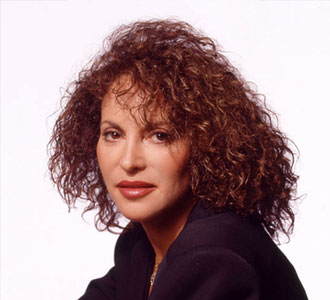 Carole is acknowledged as one of the major American realist sculptors. For 30 years, she has owned and operated Feuerman Studios Inc., where she creates her artworks and exhibits both her work and the work of other artists. She was included in "An American Odyssey 1945-1980" with the most prominent artists of the American post-WWII era.
A comprehensive one-person show at the QCC Art Museum/CUNY entitled "Resin to Bronze Topographies" (catalogue essays were authored by critics John Yau and Donald Kuspit), was followed by the installation of her work at the prestigious "Grounds for Sculpture". Feuerman's recent awards include the Lorrenzo EL Magnifico Prize in 2001 for the Biennale Internazionale: Dell'Arte Contemporanea, Florence, Italy, and The Prize of Honor in 2002 for the Ausstellungszentrum Heft, Huttenberg, Austria.
This year she won the Medici Award from the City of Florence at the Florence Biennale of Contemporary Art. Recent critical notice includes "Carole Feuerman's Triumphant Return to Venice Biennale," Fine Art Magazine, fall 2005 by Victor Forbes, "In the Swim: Carole Feuerman's Sculptures Stay in Shape," Art & Antiques Magazine, May 2005, by John Spike.Her work is included in the selected collections of President Bill Clinton & Senator Clinton, Dr. Kissinger, President Gorbachov, The Fort Lauderdale Museum of Art, The Bass Museum; The Tampa Museum, The Boca Raton Museum, The Absolut Art Collection, The Lowe Art Museum, Brandeis University, SAMA, The Miami Children's Museum, QCC Art Museum of CUNY, and the Forbes Magazine Art Collection to name a few.
Currently she is doing a series of workshops at the Metropolitan Museum where one of her swimmers was acquired for their corporate offices.
---
Artist's Available Works:
---
To contact Carol Feuerman, use the form below: