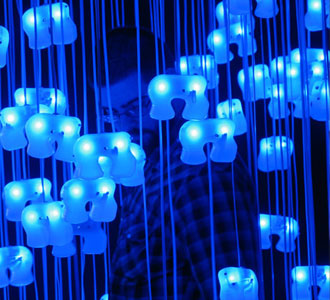 Possessing an early background in engineering and a propensity toward the sciences, Adam Brown is an Intermedia artist with a concentration in electronic media. Emphasizing the similarities among seemingly disparate disciplines, his creative activity seeks to discover new forms and ideas resulting from interactions among science, technology, and art. More specifically, he is interested in the interface between the body, mind and the circuit. The result of this practice blends digital media with physical materials that strive to make contributions to both art and science that he calls Symbiotic Media.
Brown's most recent work in collaboration with scientist Dr. Andrew Fagg titled Bion, makes reference to an individual element of primordial biological energy identified as "orgone" by the scientist Wilhelm Reich. The interactive installation is a sensor network composed of more then one thousand, mass-produced, 3-dimensional glowing and chirping forms called bions. Each bion, a small synthetic "life-form," fitted with custom electronics, low level A.I. and sensors, has the ability to communicate with other bions and with humans that enter the space.
Selected as an emerging artist for the exhibition, Archival to the Contemporary, Six Decades of the Sculptors Guild and SigGraph, Brown has exhibited nationally and internationally and is the recipient of numerous grants and awards including the Oklahoma Research Council's Junior Faculty grant as well as several other state and private grants. Bion has been written about in publications such as, the New York Times, Newsday, The Oklahoma Daily, and will be featured in an upcoming issue of Sculpture magazine.
Brown directs the Oklahoma component of "The Upgrade" which is a monthly international gathering of artists, engineers, programmers and curators hosted by the Untitled [ArtSpace] and The University of Oklahoma's School of Art. He is also a member of the New York Sculptors guild.
During the early/mid 90's, Brown's launched a graphic and web design studio. At the same time he spent two years developing a non-profit art space in West Branch, Iowa, where he collaborated with internationally recognized artists in creating work that was dedicated to unveiling the myth of Isis. The Isis Conceptual Laboratory was a space dedicated to exploring the mystery of Isis, an Egyptian goddess whose spirit was captured in the form of a bronze statue located on the grounds of Herbert Hoover National Park. The first show entitled "Looking for the Pieces" was broadcast live on Pseudo Radio as well as being one of the first art openings to stage an internet video teleconference.
Brown has a diverse undergraduate educational background in Biomedical Engineering and Intermedia. He completed all of his graduate work at the University of Iowa, and obtained his M.F.A. there in May 2000. While at Iowa, Brown was instrumental in creating a new digital media art program called Digital Worlds. Since 2000, Adam Brown has been a Professor at the University of Oklahoma where he teaches courses in electronic media, computer science, interactivity, video and theory. He currently resides in Oklahoma City.
---
Artist's Available Works:
---
To contact Adam Brown, use the form below: