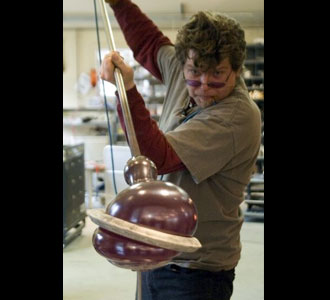 Timothy Hochstetter - Contemporary Sculpture

Timothy Hochstetter is an intuitive engineer specializing in the art of combination. He brings a lifetime of personal development and exploration to his blown glass and inflated steel sculptures.

Inflated steel is an innovative form that challenges the viewer's perception of metal as hard, cold and static. The process requires exact calculation and measuring, in contrast to the spontaneity involved in blowing glass.

Hochstetter's work responds to and explores the natural and technological worlds. He is inspired when the elemental characteristics and personalities of these two worlds meet. Organic images of microscopic organisms, the origins of life, and natural forms merge with hot glass and inflated steel to generate his ever-evolving work. Hochstetter creates art objects as a participant in our cultural evolution. Through the daily discipline of investigating natural life forms, the artist has become acutely aware of their interdependence.

Timothy Hochstetter studied Art at the University of Hartford Art School and Jazz Guitar at SUNY New Paltz. He is endlessly excited by innovative technology, new materials, and the collaborative process. Hochstetter's work can be found in numerous galleries and private collections nationwide. Recent commissions include Arts&Architecture/Royal Caribbean Cruise Lines and The Mayflower Garden Spa. Timothy maintains a hot glass/metal Studio & Gallery named Adeptucos Arts in Washington Depot, Connecticut.
To contact this artist, please call 212-695-4074 or use the Contact form below.