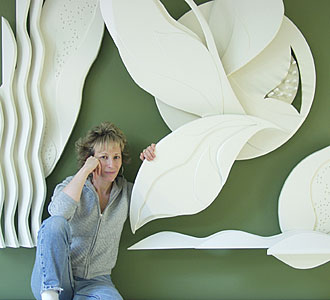 Roberta Daar's unique wall sculptures have received enthusiastic recognition from patrons, peers and art critics alike. Her sculptures are distinguished by the unique way she cuts and shapes the wood, by their smooth edges and clean colors and by the complex interrelationships between the parts. Her work doesn't actually move, but nevertheless, it appears to be in motion.
"I was born with a restless energy. Even while sitting still, my mind races constantly with pictures and ideas. I look at static walls and I want to make them come alive. In my sculpture I can capture the gentle clock-like rhythms of the ocean or the powerful thrust of a locomotive engine. I strive to create sculptures that demonstrate this energy or rhythm and then I freeze them in time."
Ms. Daar grew up in New York City and graduated with a BFA from Queens College. Her sculptures have been featured in numerous group and solo shows at museums and galleries in the northeast United States, including The Nassau County Museum of Art; The Heckscher Museum of Art; The Chelsea Center; and The Pen and Brush, Inc. In addition, her work is featured in many private and corporate collections, including McGraw-Hill Companies, New York; Wyeth Pharmaceuticals, Philadelphia; Wolf, Block, Schorr & Solis-Cohen LLP, New York City; and Stanton, Kay & Watson LLP, San Francisco.
---
Artist's Available Works:
Crafted in tranquil white, Daar transforms the wood...

This series of four sculptures create a maze of...

Ebbing and flowing with the subtle force of a...

Supported by its strong, metal frame, this sculpture chugs...

Swept up in an irregular, whirling motion?...

Sleek and streamlined, this flash of white juts through...

Daar captures a feeling of energetic power in this...

Twisting and turning with a languid flow...

On the wall yet not of it, simply white...

Through a delicate, white window box, Daar's viewers are...
---
To contact Roberta Daar, use the form below: