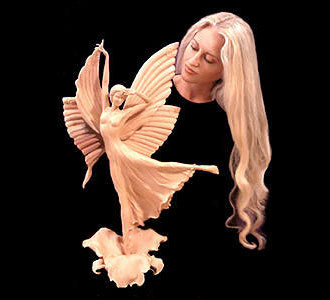 All celebrated sculptors have their own distinctive style, as each sculptural piece provides a unique view into the artist's soul.
Upon approaching one of Paula Slater's Asian inspired Limited Edition bronzes, you will become immediately filled with the sense of East gracefully blending with West. These sculptures exude affirmations of inner peace, connectedness, and the joy of being in the moment. With her newest Royal Faerie Limited Edition bronze series, Slater combines a masterful command of the human form with whimsical drama, a fluid sense of motion and wonderful expression. Slater has enormous talent, and she is reaching a wide and influential audience with her exciting and original new sculptural works.
Whether it be miniature or monumental sculpting, Slater believes in the old-world ideal of 'nothing rushed or left undone' as she gives the time needed to bring each exquisite detail to life. This generous giving of time is rare in the art world today, setting her sumptuous sculptures apart and elevating the demand for her fine art ever higher.
---
Artist's Available Works:
Paula Slater's whimsical "Faeries in Waiting" depicts a young...

Suspended above the train of her elegant gown, this...

Royal Butterfly Trainer - By Paula Slater A young faerie...

As the first glints of sunrise glisten on beads...

From his arching eyebrows to his sly smile, the...

This full-figure portrait depicts a mother and her adorable...

Designed for a home in Fountain Hills, Arizona, this...

This enchanting life-size bust displays with great detail the...

Style: Bronze, Portrait Materials: Clay and bronze

Style: Bronze, Portrait Materials: Clay and bronze

Style: Bronze, Portrait Materials: Clay and bronze

Style: Bronze, Portrait Materials: Clay and bronze

Style: Bronze, Portrait Materials: Clay and bronze
---
To contact Paula Slater, use the form below: