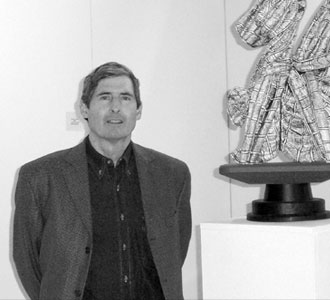 Nick Edmonds has been making sculpture for 43 years. In making sculpture Edmonds strives to have the pieces continue to move and flow after they are out of his studio. His sculpture often surprises the viewer because it depicts something not seen in art before. His 3-D landscapes stand as gardens ready for a viewer's contemplations and fascination. In Nick's art, landscapes have a lot to do with monumentality or the idea making a small thing look like something bigger. It is an environment for a viewer to contemplate a landscape.
Nick Edmonds sculptures are all wood and made with a complex assortment of forms joined together. Edmonds traveled to Japan in the mid 1970′ to learn first hand from carpenters who were reconstructing an ancient temple. After eight months of study and observation Nick learned much about traditional Japanese wood working techniques and joinery. Thirty years later these techniques are still applied in his sculpture. The challenge at first is to make a piece exist as a 3-D version of a drawing. Nick uses a progression of tools from chain saw, band saw, electrical drills, planes and grinders to produce his free form shapes. The surfaces are then hand carved with scores of chisels and gouges. Recent work has evolved from carved wood surfaces to poly chrome painted sculpture.
---
Artist's Available Works:
Like a crazed children's story thrust from start to...

Reflecting the movement of both water and time, "Morning...

With it's colorful depiction of the gas works, busy...

Intently paddling through a cacophony of abstractions, "Swimmer" gazes...

Approaching "Coming Into Ceret" is like passing over an...

Ships sail, trees grow, and figures glide through and...
---
To contact Nick Edmonds, use the form below: