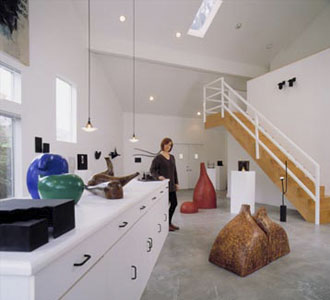 Eileen Shahbazian has worked with stone, wood and bronze for over 20 years. She has exhibited in galleries and museums in California and across the country. Private parties, corporations and most recently, an American Embassy overseas, have collected her works. Eileen was born in Lebanon. She immigrated to the United States in 1971. Eileen has completed B.A. degrees in Art and Sociology. Presently, she maintains a studio in Southern California living in close proximity to a national forest. Her love of nature is evident in the feel and movement in her work.
Eileen's contemporary style is imbued with a unique personal quality that reflects her deep commitment to self-discovery and understanding of life.
---
Artist's Available Works:
Shahbazian transforms the usually unseen movement of air and...

Protruding through their bulbous pod, three tubular shoots sprout...

No longer a mere snack, this "Pear," standing over...

This modern take on the classical still life provides...

Moving to and fro, over and through, crossing and...

Properly positioned so as to fit perfectly into one...

Shahbazian's panels explore spatial elements...

Shahbazian transforms the usually unseen movement of air and...

Simply rounded and with one flared eye protruding starkly...

With fluted spouts emerging from the top and side...
---
To contact Eileen Shahbazian, use the form below: