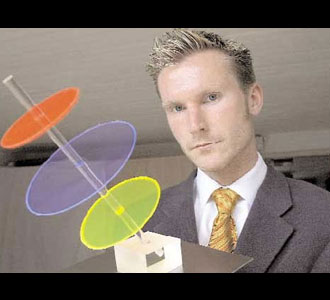 I have been working with these unique sculptures for over 14 years. I have never been to art school and I think that is why my art has such a different look than other artists. Because I have never been told to do certain things, the ideas for my work have come naturally. The sculptures are made of steel and acrylic and contain light, so they are very beautiful in dark surroundings.
The sculptures work as soft-lamps. I have had cooperation with Bang & Olufsen, and exhibitions the best places in Milan, Copenhagen, and London. Wallpaper* Magazine in 2003 chose my VITOS sculpture as one of the 100 hottest elements in the world.
---
Artist's Available Works:
Softly illuminating the darkness with its yellow and crimson...

Four clear panes meet in the center of "Kantik,"...

An unruly tower of luminous blue cubes sits beneath...

Like a rainbow that has been split along its...

Three bright circles encompass a clear wand, energetically perched...
---
To contact Casper Patrick, use the form below: