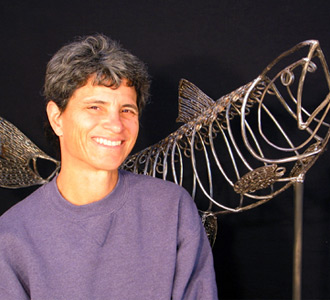 Loren Senge

Before school each day, I took my surfboard down to the beach and spent an hour surfing. This first freedom was a love affair. The ocean caressed me and won my heart forever. Still in my heart are the waves of those early mornings, tumbling me off my board, the sting of inhaled salt water, fingers too cold to snap my pants back on. The variety of the water surface, winds, and wave forces were a changing dimension, a youthful adventure, drawing me day after day to rise from the comforts of sleep to the exhilaration of simple play.

Whatever drew me to those waves is still drawing my adventures this day, into solid forms of steel. Much of my work is ocean related. Currents, waves, bird forms, fish forms, flowing into and out of my hands, heart, and head. Abstraction, humor and color accompany me as I work.

Loren begins with steel that is cold and dark, and infuses it with life. Each piece is painted with a wash of heat from a torch, bringing out brilliant colors that dance and move with the changing light.

Loren thrives on commissioned works, as creativity springs from new ideas and directions.