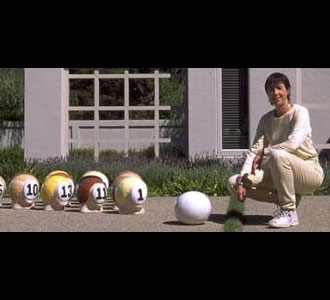 Jane B. Grimm - Contemporary Sculpture

Jane B. Grimm is a ceramic sculptor living and working in San Francisco. She was born and raised there. After her schooling on the East Coast where she studied at the School of the Museum of Fine Arts in Boston and where she received her AB from Sarah Lawrence College, she started her career as a jewelry designer and manufacturer in New York City. Her jewelry was seen in magazines such as Harper's Bazaar and Vogue and sold in many department stores and boutiques in the United States and Europe.

While still living on the East Coast, Jane started working with clay in the early 70's. She also taught jewelry making while she began raising her family. Upon returning to San Francisco, she continued to make jewelry but embarked on a more intensive study of clay. In 1992 she received her MFA in Ceramics with High Distinction from the California College of Arts and Crafts, having studied with Viola Frey and Art Nelson. Her sculpture has been on display nationally in a variety of venues including museums, galleries and alternative spaces. She also has produced art for corporate buildings. Some of Jane's more recent exhibitions have been "Cool Calm and Collected" at the Richmond Art Center in Richmond, CA, "Contemporary Crafts" at the Olive Hyde Gallery in Fremont, CA, "Subtractions and Additions:Ceramic Sculpture and Installations" at the San Francisco Museum of Craft and Folk Art., "The Chess Set" at the Oakland Museum Sculpture Court, a solo show at the Enigma Gallery in Essex, VT and a two person show at the Crockett Contrmporary Art in Crockett, CA.

Jane's hand built sculptures of low fire clay and glazes range in size from intimate to large scale. Color and surface treatment are important factors that she uses to attract the viewer's attention. Duality is a prevalent theme in her sculptural work where elements such as light and dark, the obvious and the obscure are juxtaposed. She explores issues in contemporary society, such as concerns about evolution, privacy and prejudice. Humor is used as a reminder that, despite adversity, things must not be taken too seriously.

Her most recent work is a study of motion. The work focuses more exclusively on the subtle changes of light and texture presented in a landscape or seascape format. The subtle changes of the primary color are due to the addition of clear glaze, or the gradual addition of a second color. The scale of her work is more intimate due to the space limitations of her studio.

Jane's drawings are another way that she explores form, color and motion. The crosshatch method used in her drawings is reminiscent of the technique she uses in her dry point etchings.
To contact this artist, please call 212-695-4074 or use the Contact form below.