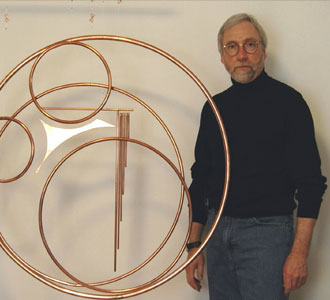 Gary Christopherson

Gary "GChris" Christopherson grew up near the rural village of Nelson, WI. He spends time there and lives in University Park, MD (greater Washington, DC area).

He creates mobile and stabile sculpture under the signature GChris, with his primary artistic influence being Alexander Calder.

Focusing his work on abstract sculpture, GChris mobiles and stabiles are in the tradition of Alexander Calder but move in a different direction. Most of his body of work is driven by the need for social change. The messages in the titles and embedded in the sculpture carry both ambiguity and unequivocal statements.

His sculpture builds on the most basic elements- lines, curves and circles. When joined and in motion as mobiles and stabiles, the message is "quantum positive change," a strong optimistic expression of the human condition and potential.

Early in his work, he chose to create GChris mobiles and stabiles utilizing natural materials -- copper and wood. Woods are primarily American hardwoods -- mostly black walnut -- with contrasts by exotic African and South American woods. Copper is used in many forms and takes each work through a living process.

In addition to sculpture, wrote an unpublished science fiction novel - "black box"-that weaves a story of unknown technologies, science, religion, politics with the human pursuit of positive personal and global change. "black box" is the first volume in what is the conversion series. This sci-fi series explores a mysterious and powerful black box and its enormous impact on the world's people and their religions, science and militaries. "Conversionists" and "anti-conversionists" engage in aggressive struggle for the black box's potentially unlimited power and the human race's future. Moving amongst them is the quiet shepherd, keeper of the black box.

Existing GChris mobiles and stabiles number over 150 pieces with dimensions ranging from a few inches to 12 feet and larger. Works of all sizes, even larger works to monumental scale, can be commissioned.
To contact this artist, please call 212-695-4074 or use the Contact form below.