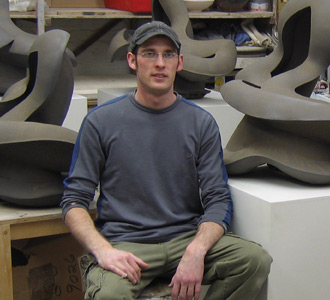 Brian Kakas - Contemporary Sculpture

Brian Kakas has been working within the ceramic art field for more than ten years. Though his artworks are created purely from clay, they are influenced by fabrication techniques and experiences in architectural metal work, textile, bronze casting, woodworking, landscaping and masonry industries. Kakas' recent work is exploring the interrelationships and intentions between the maker and the material. Through his aspired process of invention, his intent is to find natural form by staying true to chosen materials and their inherent properties.

Kakas received his Bachelor of Fine Arts from the University of Montana. Before leaving Montana he was also a resident artist at The Archie Bray Foundation Center for the Ceramic Arts. He has a Masters of Fine Arts from The University of Notre Dame in Notre Dame, Indiana, where through research grants he continued experimentation of large-scale mold making techniques for sculptural ceramic vessels. Kakas is originally from Pottstown, Pennsylvania, and is now making new works and living in Melbourne, Australia. He is currently working on his Doctorate of Fine Arts at The Royal Melbourne Institute of Technology.
To contact this artist, please call 212-695-4074 or use the Contact form below.